Shown above: EverWood® Alternative Wood Blinds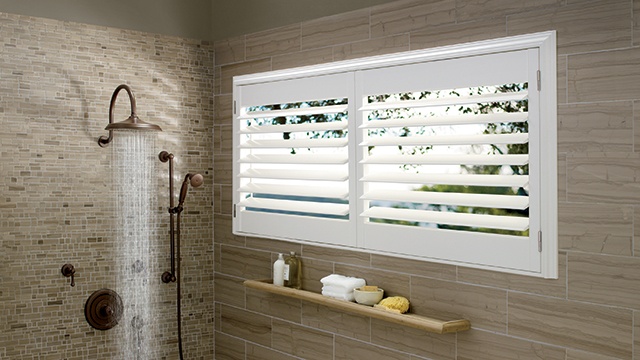 Palm Beach™ Polysatin™ Shutters
Moisture-Resistant Window Treatments
Clearly, our first priority in the bathroom is privacy. But depending on your climate and bathroom layout, your window treatments also need to withstand humidity.
For an area near a tub, shower or spa, look for window treatments made of moisture resistant materials. Great options are:
These products are made from materials that are guaranteed to never warp, chip, crack or fade even in the most extreme conditions.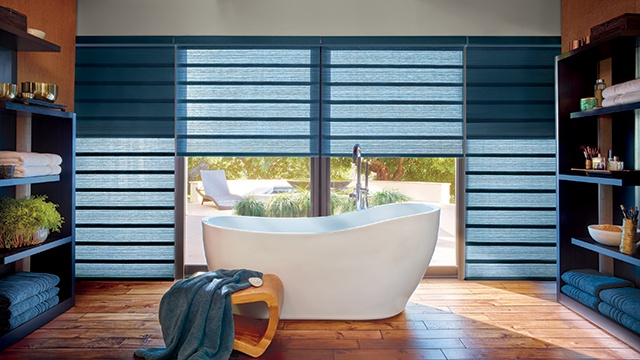 Vignette® Modern Roman Shades
Top-Down/Bottom-Up Shades
If moisture is less of a concern, you may want to consider shades that can be opened from the bottom and also from the top. These shades create the perfect balance of privacy and natural light.
Shades that come with Top-Down/Bottom-Up functionality include:
Add PowerView® Automation for shades in hard to reach places, such as over the bathtub.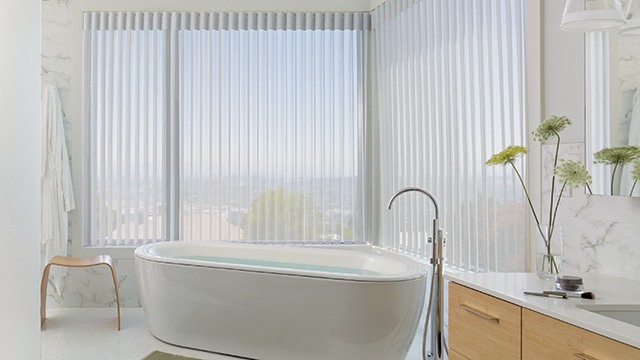 Luminette® Privacy Sheers
Solutions for Large Bathroom Windows
Luminette® Privacy Sheers are a great choice for large bathroom windows. When the vanes are open, the sheer fabric filters the light and illuminates the room. When the vanes are closed, the opaque fabric provides the privacy of a drapery.