Intelligent Shades That Simplify Your Life
Imagine a world where your window treatments adjust themselves automatically, creating the perfect room ambiance morning, noon and night. That's the beauty of PowerView® Automation—recipient of the 2018 Red Dot Design Award, the most coveted and prestigious designation in the world of design.
Just program PowerView to move your window treatments to the exact position you want and then control and schedule them using the intuitive PowerView App. You can also operate your PowerView settings using the PowerView Pebble® Control, or with voice commands using devices from Amazon and, coming soon, Apple® HomeKit™.
Get the PowerView® App
The PowerView App unlocks the full potential of PowerView Automation. Using the App, you can control your shades with a swipe of a finger. Or, create customized Scenes that move the shades to positions you set, and automate those Scenes to operate on their own throughout the day.
Click a link below to download the App today for Apple® or Android™ devices:
Shades that Operate on Your Schedule
Use the Automations feature to set your Scenes to operate independently, whether you are at home or away. You can even schedule Scenes to operate with the sunrise or sunset based on your location.
Use the Pebble Control
The PowerView system can be operated via the PowerView App or Pebble Control.
The Pebble Remote Control offers a modern alternative to a traditional remote control, allowing you to preset and easily operate up to six different groupings of window treatments—individually or together—with just a press of a button. Ergonomically designed and beautiful to look at, the Pebble is available in ten stylish colors to enhance any décor. The Pebble Scene Controller allows you to trigger your pre-programmed scenes on demand. Both are also available as Surface Controls that can be affixed to a wall.
PowerView Hub
Our elegantly designed Hub connects wirelessly to your WiFi network. It's the central point of control for all your home's PowerView window treatments, storing your settings and activating your Scenes.
Extend Your Signal
The PowerView Repeater extends the signal range of the Hub to carry commands throughout your home. Added bonus: its soft glow provides customized illumination when plugged into any outlet.
Red Dot Design Award Winner 2018
Good design comes with a seal of approval—the Red Dot Product Design Award. It's a highly desirable industry award, and both the Hunter Douglas PowerView® Hub and Repeater earned it in 2018.
Connect from Outside the Home
The Remote Connect™ feature allows you to operate your shades from anywhere in the world using your mobile device.
Designed with Safety in Mind
Along with the added convenience of cordless operation, PowerView Automation creates a safer environment for homes with young children and pets.
Battery Power Makes It Easy
Most PowerView motorized window treatments are battery-powered, so they're incredibly easy to install, operate and maintain. The battery pack is hidden behind the headrail so there's nothing to mar the beauty of your window treatments.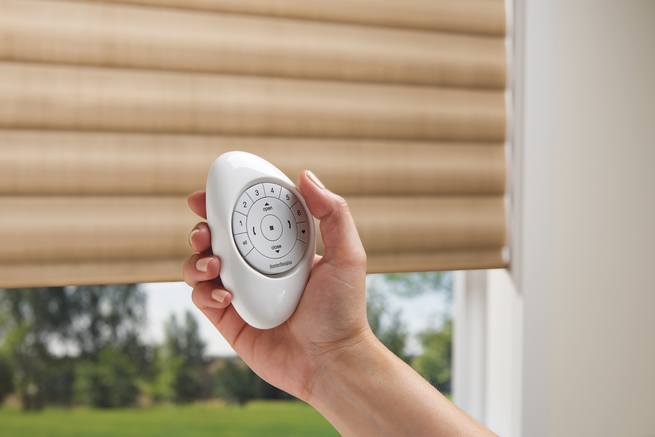 Compatible Systems
PowerView also seamlessly integrates with other sophisticated whole-home automation systems.